Dentures in Manahawkin
Dentures may be a solution for you if you are missing multiple teeth. We provide full and partial dentures to restore the function and appearance of your smile.
Image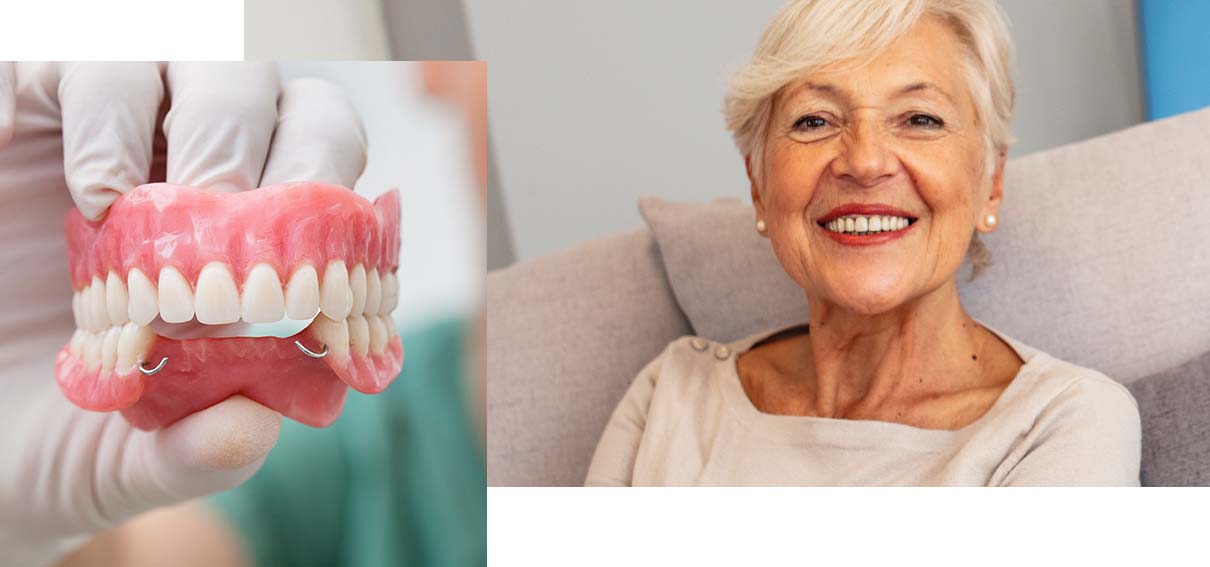 Why Wear Dentures?
Dentists have used dentures to replace missing teeth for centuries. Today's modern dentures are made from advanced composite materials, but they serve the same function: to restore the appearance and function of missing teeth. Dentures also restore the appearance of your cheeks and mouth by reducing the "sunken" look that can happen after tooth loss.
Full Dentures
Image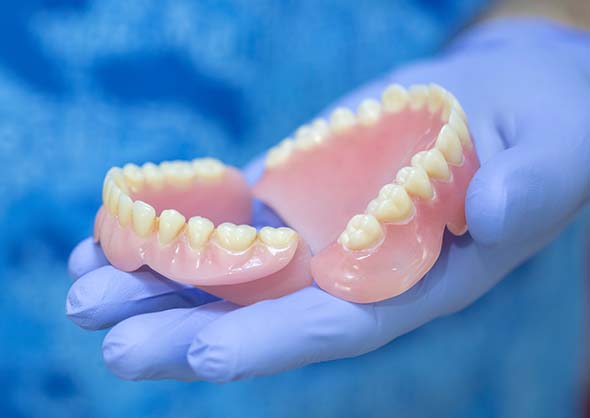 Full, or complete, dentures restore the teeth in a single arch. They restore the appearance and function of the missing teeth so you can eat and speak normally. Full dentures are designed to give you a natural smile and remain securely in place without slipping or shifting.
Video: Full denture
Partial Dentures
Image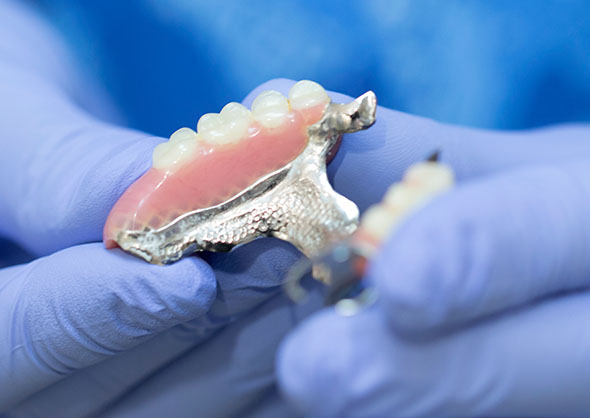 Partial dentures are used to replace one or more missing teeth. They are designed to fit comfortably, blend in with your natural teeth, and stay securely in place while you eat or talk. Like full dentures, partials come in a variety of styles and types to meet your needs.
Video: Removable partial denture
Overdentures
Overdentures are dentures that are supported by dental implants. They are a secure and stable alternative to traditional dentures. Overdentures come in different types, depending on your individual needs. Fixed implant-supported overdentures are permanently attached to dental implants and can't be removed. Removable implant-supported overdentures are also available: these can be removed for cleaning or while you sleep. Removable overdentures can be attached directly to each implant, or they can be attached to a metal bar that is permanently attached to dental implants.
Overdentures are more stable than traditional dentures, and they won't shift or slip while you are eating or speaking. The dental implants also help preserve your jawbones by preventing bone loss that can result when you lose teeth.
Frequently Asked Questions
My dentures are slipping or broken. What can I do?
Dentures should fit comfortably and securely while you wear them. If yours are slipping, or if they've been damaged, bring them to us to have them repaired or adjusted.
How do I clean my dentures?
You should remove your dentures and rinse them in water after every meal. This removes food particles and ensures your dentures stay clean. This is also a good time to rinse your mouth and brush your teeth. Clean your dentures with denture solution and a soft denture brush every night and soak them in denture solution overnight to keep them moist. You should also bring your dentures to your dentist regularly for cleaning and maintenance. Your dentist will let you know the appropriate maintenance schedule for you.
Will dentures change the way I talk or eat?
Dentures may change your speech slightly when you first wear them, so you might need to practice speaking while you wear them. Reading aloud to yourself is a great way to practice.
Dentures may affect your ability to chew food, especially foods that are sticky or hard. When you receive your dentures, your dentist or denturist will teach you how to chew properly with dentures and which foods to avoid.
Related Videos